Gift Guide: The Gadgetista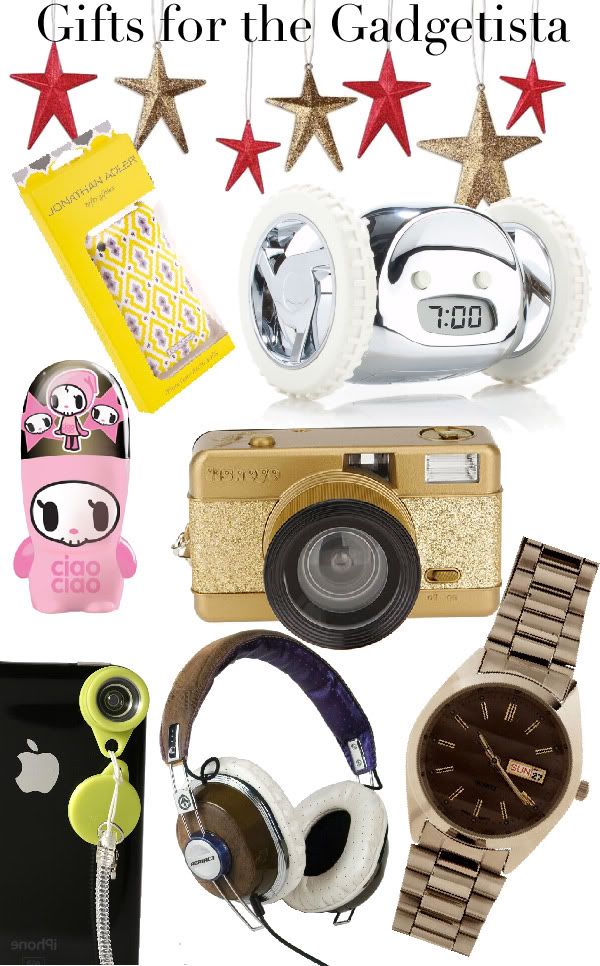 Can you believe the holidays are already here?? It seems like yesterday the heat was sweltering, melting the makeup off my face, and I longed for sweaters and layering. I've gotten my wish (as I do every year, believe it or not).
Last year I started a series of gift guides, but my blog was so new, it seems like nobody read it. Well, nobody except my mom.
Things are looking up this year, so I'm kickin' it off with a series of gift guides once more, this time starting with my favorite type of person: the technology-loving girl, which I have dubbed "The Gadgetista". In case you were wondering, I am a Gadgetista.
I'd like the sparkly camera, please.
Stay tuned for more gifts geared toward every type of woman in your life (and at least one of them will be you)!
clockwise from top left: jonathan adler iphone case $19.95 // the clocky in chrome $48 // lomography 35mm sparkle fisheye camera $60 // dad knows best watch $30 // chopper2 headphones in mojave $70 // iphone trick camera lenses $8 // tokidoki mimobot flash drive $39
Kristina B.